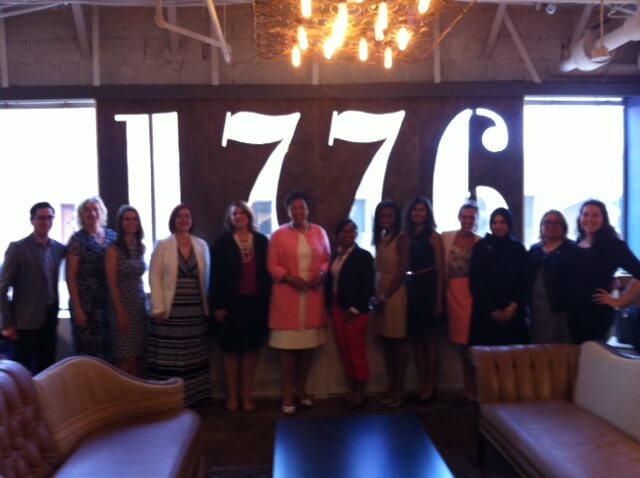 We are now on our way to New York, and before we get to our next series of conversations, Taiba, The Baroness, Deborah and I wanted to share with you our day on Tuesday!
First we must thank Emma and David from Simpson Millar, Matt and Audrie from Latimer Group, Justin from Public Health England and Christina from RTS Media for making all of our conversations with you possible.
And what can we say – Teki, Amanda, Emma, Nirvana, fantastic Uncle Bill, David and Sir Peter and Lady Westmacott have been making all of these amazing meetings possible for our conversations to happen!
In the morning we met with 1776 – a group of start up entrepreneurs who have a platform to be innovative and share their work and experiences in this remarkable space and generator. They are not working in silos but together to create new business solutions and stimulating industry. On top of all this – social justice is the bedrock of each entrepreneurs' work. It was exciting to meet leaders of today who are changing the paradigm on domestic violence and health in the workplace – via their products and corporate ethos.
We were able to listen to the challenges entrepreneurs are facing in relation to gender equality but also domestic violence. They have a particular desire to help women entrepreneurs become successful.
The Alliance, EDV and the Baroness were particularly inspired by this work and we will continue being innovative with this global incubator to transform industries that impact millions of lives every day.
We next met with the
National Campus Leadership Council, who provide a forum for 500+ current and former student body presidents to come together and confront pressing issues facing young people nationally.
It was a vital conversation that addresses the current and urgent topics of sexual assault, dating and domestic violence that are the scourge of student communities worldwide. It was particularly interesting to engage in a conversation with American university student leaders that have the very same concerns as students in the UK. Young people realise we need to address sexual violence on campus, domestic violence in all forms and inspire our campuses leadership to address what is happening in our lives as they are vital components of the solution we seek together.
We realised we are a platform for young people, who have a responsibility to discuss the legitimacy of and consequences of language and behaviours apparent in social media and in our conversations. This vibrant exchange has led to the beginning of an active stakeholder group that will work collaboratively to address these issues immediately both in the US and UK. We are also pleased that the NCLC wants to engage in real dialogue with universities around the world and with the EDV Youth Council. We are pleased that the British Embassy will work in collaboration on our joint work.
Project CHANGE is collaborative help advancing new growth and empowerment for people who endure violence. This end to end series of provisions are immediately available for people who endure and witness violence. This is a court based service where all of the NGOs, justice, criminal justice and advocacy services, including forensic nursing services and mental health counselling are all in one place for immediate availability to the persons who may require assistance. This whole process and series of services is free to the client! We were inspired by this work – and truly believe this model is so good! This DC pilot is innovative and we are excited to have EDV, the EDV Youth Council and the Alliance be invited to continue discussing key learnings from these initiatives.
We zoomed to the Hill where we met with Congresswoman Jackie Speier. She is a leader who has been carrying the empowerment who has been raising the voice of women in America and California who engaged in a conversation with Baroness Scotland.
Our evening was hosted by Glamour Magazine and the British Embassy with leaders in all walks of life addressing issues of violence, freedom, youth, gender, diversity and economic empowerment facing people in our Countries. Glamour magazine realises that going beyond fashion and featuring issues that affect women today is important. It made the 4 of us very humble to engage in this discussion – and makes us inspired to be innovative!